Recently, we've had some pretty frequent instances at work where I have collected relatively large sums of cash as part of a few fundraisers. As such, I've had to make some pretty frequent trips to the bank to deposit these relatively large sums of cash, most of which are in small figures, ones and fives and such.
As I was making a final count of a large pile of money at my desk yesterday before heading to the bank, I mentioned to my lovely intern that I always manage to get the same bank teller and he probably thinks I'm a drug dealer because I'm always depositing thick piles of cash. That's when my coworker piped in and said "no, he probably thinks you're a lady of the night."
"No, no," my intern interjected. "Not a prostitute, you have too many small bills. He thinks you're a stripper." Then off to the bank I went with their shrill laughter trailing behind me.
There were two tellers on duty at the bank, one of which was the gentleman I always have the pleasure of doing business with. I can't go to him today, I thought. He's definitely going to think I'm a stripper now. Why didn't this occur to me before?! What else would you think when a young woman comes in with stacks of ones?! STRIPPER that's what you think! STRIPPER!
I was next in line. Whoever finished first ahead of me is where I would have to go. Suddenly, my usual guy opened up. I had to move in. It would be too awkward to let someone from behind me go just to avoid him. I walked up to the counter and quietly passed over the deposit slip and giant wad of cash.
I looked down at the clothes I was wearing. Everything seemed pretty safe. Jeans, a heavy winter coat and boots. Certainly not an outfit that screamed stripper. My eyeliner was a little thick though. DAMNIT I WAS GIVING MYSELF AWAY. Say something. Be witty. Put him at ease so he knows you're not a stripper. Say something now!
"IT'S FOR MY WORK."
I exclaimed, much in the same way someone who suffers from tourrettes might scream
fuck
or
damn
or
Bob Saget
. The teller stopped counting and looked at me.
"Oh ..."
he replied.
FUCK DID YOU JUST TELL HIM 'IT'S FOR MY WORK?' FOR MY WORK? OH, REALLY? DOES YOUR WORK INVOLVE A POLE AND A PAIR OF FIVE-INCH HEELS? MAYBE A KITTY-CAT THEME? WHAT THE HELL IS THE MATTER WITH YOU? WHY DON'T YOU JUST SCREAM I'M A STRIPPER IN CASE THERE WAS ANY LINGERING DOUBT? FOR MY WORK, JESUS CHRIST.
I stood and silently watched him finish the transaction. He smiled pleasantly as he handed me the receipt and told me to have a wonderful rest of the day.
Recover, recover, recover! "Thank you. You too. I've got to head back to work ... AT MY OFFICE. Where I work. In .. the office. Thankyouhaveagreatday." [Great recovery. Slow clap. I'm sure you really set his mind at ease here. That's lovely. Still clapping. Very slowly. Keeping cool under pressure. One more clap.] I shoved the receipt in my pocket and headed out the door. Probably exactly like a stripper. So, you know, just one more anecdote for the autobiography, tentatively titled "Surviving Awkward: The tale of one amazing woman's journey through life."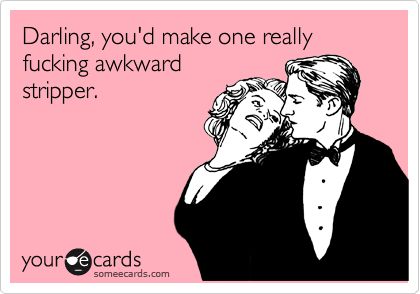 Tweet